Best price guaranteed from direct distributor, 100% price difference refund. Free doorstep delivery.
Premium Gold Plated Gift Set – Quality assured by Natural Brand Trading Pte Ltd.
High Grade Royal King Golden Bird's Nest – Harvested from the first nest made by the swiftlets.
2 pieces of bird's nest serves 3 adults portion of concentrated bird's nest soup.
100% Pure Royal King Golden Bird Nest, high in nutrients and minerals.
* Top Grade with at least 3.5 to 4 fingers in width formed naturally by the swiftlets.
* 100% money back guarantee if quality is not pure.
Great for youth retention and cells regeneration of the skin, bones, muscle, hair and nails. High collagen and glycoprotein content to boost overall immune system of our body.
AVA approved with cert for sale in Singapore. No bleaching, artificial coloring, artificial flavourings, or chemicals.
For wholesale prices of 2kg and above, please contact 98375516 or [email protected] for bulk pricing or use the contact form here.
Please follow and like us:
| | |
| --- | --- |
| Gold Plated Gift Pack (Yes/No) | Yes, No |
| Select Bird Nest Type: | Royal King Golden Nest, Royal Golden Nest, Imperial Yellow Nest |
| Select Bird Nest Weight: | 200g, 250g, 500g |
There are no reviews yet.
---
Local Delivery
Local delivery is free of charge for all orders.
Payment via paypal, bank transfer or dbs paylah app.
For Bulk Purchase of Royal King Golden Nest (1kg and above), please contact us for quote, as volume of royal king golden nest is fluctuating every month due to supply limits. Regardless, we guarantee best pricing in Singapore for Indonesia Golden Bird Nest.

International Shipping
Minimum quantity for international bulk shipping is 1kg. Please send an email to us using the contact form to get a quotation for the purchase.
Try our bird's nest today!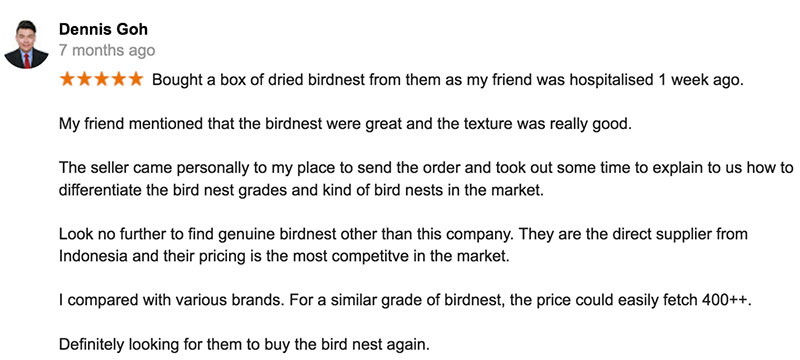 We use the best of our harvested golden nest (jin xi yan) with 3  fingers width and above to brew our bird's nest soup.

Bird Nest expansion rate of approximately 9 times its original weight after soaking in water for 3 hours indicates a quality and genuine bird's nest.
Bird Nest did not disperse even after 3 hours of soaking in water indicates genuine bird's nest content. (front)

Bird Nest did not disperse even after 3 hours of soaking in water indicates genuine bird's nest content. (back)


♥ Celebrity 开心尤發 visiting our store ♥